Barbara Avon has a penchant for historical settings and makes use of era-specific nuances to add some spice to her worlds. Timepiece is no exception, introducing a clever plot device in the form of a faustian purchase that keeps perfect time… at least when one is not leaping through it.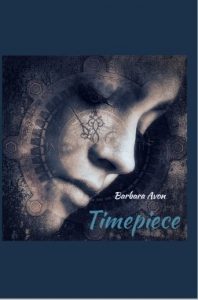 Timepiece is foremost a character-driven love story, and the author shows her talent by rendering multiple iconic time periods for her characters to interact with. The slang, clothing, and mannerisms all change to accommodate the era and give every period an authentic feel. It is an aspect of this story that I enjoyed.
Of note, there are Easter eggs for those who have read Barbara's previous works. Alas, any mention of Clara or The Grand in this work of fiction is purely coincidental!
I thoroughly loved this story and it comes highly recommended. Barbara has a wonderfully descriptive writing style that suits the stories she weaves. The ending fits in perfectly with the overall theme of the book and eluded me until the very end.
Timepiece reminded me of a dramatic film and was well-worth the price of admission!