Love has often been portrayed as a powerful force, capable of creating unimaginable beauty, or able to change the course of history itself. When dealing with such power, one may wonder if love could even transcend death. Could a pair of starstruck lovers be reunited in another life? What about the mechanics? Would there be strings attached? The Inevitable Fate of E & J by Johanna L. Randle aims to address these questions.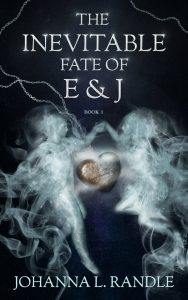 This book is presented in first person form and is focused on two teenaged characters. There is a complex history between the two, nuanced by a tragedy that occurred outside of their control and a friendship that appeared to be destined to be unbreakable. Neither character is perfect. They are forced to deal with their insecurities, their place in the social strata, and the tempest of emotions many experience while going through high school. It is these flaws that make the characters seem… so human… so real.
This book is a quick read, with chapters that split the story into bite-sized pieces for those of us who cannot dedicate large blocks of time to reading. Changes in point of view are clearly indicated at the start of a chapter enabling a reader to follow along with ease. There is also an historical component to this story which is woven beautifully into the chapters themselves in the form of dreams, flashbacks, and hallucinations.
Johanna has done a beautiful job of bringing this story to life. This character driven tale is sure to please, and will leave you yearning for more as you wait for the next book of the series!