Lately, I've not had much time for any light reading. So when my eyes fell upon the cover of Vienna Blood by K.C. Bloom, an erotica that features both lesbians and vampires, I found a reason to indulge.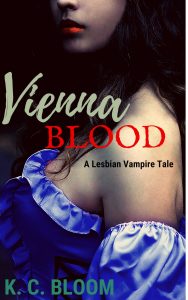 I read The Taste of her Blood, the first book of the series, earlier this year and found it to be a delightful read. It reminded me of a dark fairytale that featured a bit of erotic heat to sell it.
Vienna Blood has a different feel to it, because the innocence expected of a fairytale's main character slipped away with the first novel. Instead, the author changed the setting to a prominent European city filled with women and court intrigue. The characters adapt well to this new environment and are soon involved in a situation that is outside of their control. What happens next is exactly why this book is a must read.
K.C. Bloom is a wonderful storyteller, one who easily weaves action, intrigue and lust into a story that leaves you yearning for more. How fortunate for me, that there is a third book from the same vein that is calling out to me.