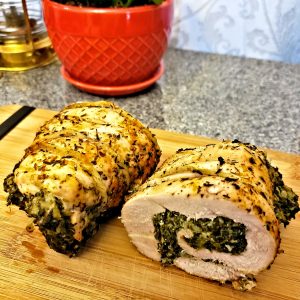 An interesting dish that includes a spinach and blue cheese mix, which is rolled into a turkey breast. It is then roasted, and served to make up one tasty main course!
Ingredients
1 pound (540 g) of boneless, skinless turkey breast
5 ounces (150 g) of thawed chopped spinach (drained)
1 ounce (30 g) of creamy blue cheese
1 ounce (30 g) of cream cheese
¼ cup (60 ml) of finely chopped onions
2 cloves (5-10 mg) of pressed garlic
2 teaspoons (10 ml) of Dijon mustard
2 teaspoons (10 ml) of Basil
1 teaspoon (5 ml) of Oregano
1 tablespoon (15 ml) of olive oil
1 teaspoon (5 ml) of Paprika
½ teaspoon (2.5 ml) of Italian seasoning
¼ teaspoon (1.25 ml) of pepper
Preparation
Preheat the oven to 350°F (175°C).
Rinse and pat dry turkey breast. Fillet the hump of the breast to flatten.
Place breast between two sheets of wax paper, and pound breast with the flat side of a mallet until meat is about 1 inch (2.5 cm) thick.
In a small bowl, combine spinach, blue cheese, cream cheese, onions, garlic, mustard, basil, and oregano. Mix well.
Coat breast with the spinach mix. Roll and tie together using butcher string.
Coat outside in olive oil, then spread paprika, Italian seasoning, and pepper.
Add water to the roasting pan, place atop a grill and place in the oven.
Roast in the oven for about 60 to 90 minutes, or until the meat is no longer pink in the middle.
Let stand for 10 minutes before slicing. Cut into slices and serve.

Spinach and Blue Cheese Turkey Roll by Evelyn Chartres is licensed under a Creative Commons Attribution-ShareAlike 4.0 International License.