In February of this year, I released The Portrait. During its previous incarnation as The Portrait of a Woman, it saw little traffic and activity graphs conjured up images of a patient flatlining.
At least my decision to move away from Amazon's Kindle Direct Publishing sphere of influence and branch out into additional markets has breathed life into the project. On Smashwords, the novel has broken a hundred downloads (was 118 when I posted) and still sees daily views.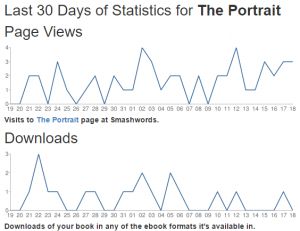 While downloads may be waning on the graphs, I prefer to not make draw any definite conclusions.  The book is available through considerably more markets and is free! After all, what is the value of a novel if you cannot actually sell it?
Smashwords has also been wonderful in delivering my eBook to other markets.  True you may have more control if you do it yourself, however for free novels this I feel this feature is invaluable.