I normally find reviews by periodically checking the stores who carry my work. This time around, I received an Email from a fellow author, who took the time to leave me a great review for the Van Helsing Paradox!
This is the first book I've read by this author, but it won't be the last. Recommended.
The excerpt of the review can be found below: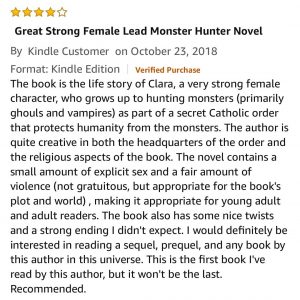 As an aside, the author also sent me a list of grammatical errors and/or mistakes that were found while reading. Some were clearly things that had been missed during the many revision cycles, while others were related to style choices that I made.
So I guess I'll have something to do over the weekend. Friendly advice and a great way ahead to make the book even better! What's not to like?