Evelyn Chartres does an amazing job of guiding us through Clara's journey into becoming a hunter…
Found this wonderful 🌟🌟🌟🌟 review for The Van Helsing Paradox on Amazon.com! The biggest surprise? This was for the paperback edition of the book! It gives me a warm feeling to know that one of my books is adorns someone's shelf!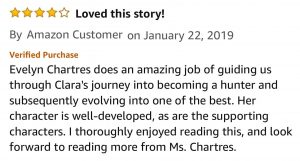 In the mood for dark fantasy novel about the life and times of a femme fatale hunter? Curious to find out why a gal has to look out for herself after all? Why not check out The Van Helsing Paradox for free? Get it now!