This book was a fast-paced adventure that fans of urban fantasy and vampires will enjoy.
Thank you Brandi E Collins for your wonderful 🌟🌟🌟🌟 review of The Van Helsing Paradox! Happy to find a fan! 😊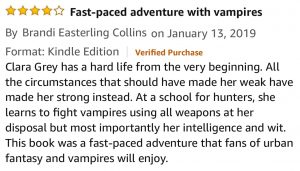 You too can enjoy my dark fantasy novel about the life and times of a hunter for free! See why a gal has to look out for herself after all!
Get The Van Helsing Paradox now!