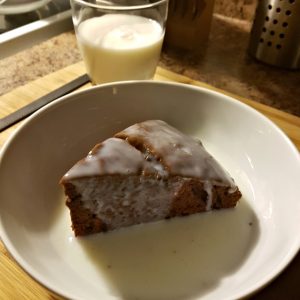 I have fond memories of visiting my grandmother and coming face to face with this cake. This recipe combines a delicious coffee cake with a creamy nutmeg sauce that really sells it!Interestingly enough, this recipe required a fair amount of deciphering.  For example, the original recipe called for
2 eggs of grease
for the cake.
The sauce needs a consistent temperature to thicken reliably. If you can get an even flame then this will be no problem. However, for electric ranges I recommend using a cast iron or steel saucepan to compensate for the on-and-off cycle of the heating element.
Ingredients
Coffee Cake
1 cup (235 ml) of sugar
2 large eggs
1/3 cup (80 ml) of shortening
2 cups (470 ml) of sifted all-purpose flour
1/4 cup (60 ml) of cocoa powder
1 teaspoon (5 ml) of baking soda
1 teaspoon (5 ml) of baking powder
1 cup (235 ml) of brewed coffee
Creamy Nutmeg Sauce
1/4 cup (60 ml) of sugar
1 cup (235 ml) of milk
1/8 teaspoon (0.625 ml) of nutmeg
4 teaspoons (20 ml) of corn starch
1/2 cup (120 ml) of water
Preparation
Coffee Cake
Pre-heat oven to 350°F (180°C).
In a large bowl mix ingredients until you have a smooth and consistent finish.
Pour contents into a greased 9 inch (22 cm) pie tin.
Cook for 25 to 30 minutes until ready.
Let cool, remove from pie tin and serve with sauce.
Creamy Nutmeg Sauce
Pour sugar, milk and nutmeg into a small saucepan then medium on medium.
In a small bowl, mix water and cornstarch.  Stir until you have a smooth finish.
When sauce begins to boil, lower temperature to medium-low or low to maintain a light boil.
Add ¼ cup (60 ml) of the cornstarch and water mix then whisk contents vigorously until sauce thickens.  Add more cornstarch and water if necessary.
When sauce is thick, pour over a slice of coffee cake and serve!

Coffee Cake with a Creamy Nutmeg Sauce by Evelyn Chartres is licensed under a Creative Commons Attribution-ShareAlike 4.0 International License.