Salmon Pie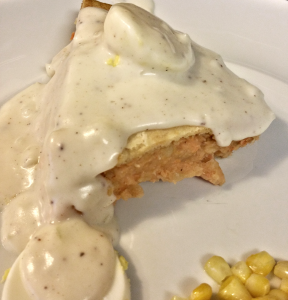 Salmon pie is variant of tourtière filled with salmon. In this Québec version, the pie is a preparation of cooked salmon and mashed potatoes. The mixture is then placed between pie crusts, and is otherwise prepared in the same manner as most other sweet and savoury pies.
This dish is excellent when served with an egg and Béchamel sauce.
Ingredients
Salmon Mash
12 oz (350 g) of potatoes
7½ oz (215 g) of canned Sockeye Salmon
½ finely chopped onion (approx 35 g)
2 cloves of crushed garlic (approx 10 g)
2 tablespoon (30 g) of butter (halved)
¼ teaspoon (1.25 g) of cumin
1/3rd cup (80 ml) of milk
Salt to taste
Pepper to taste
Crust
Egg Béchamel Sauce
4 large eggs
½ onion (approx 35 g)
3 tablespoons (45 g) of butter
2 tablespoons (30 g) of flour
2 cups (475 ml) of milk
Nutmeg to taste
Salt to taste
Pepper to taste
Preparation
Salmon Pie
Pre-heat oven to 350°F (175°C)
Peel and dice potatoes then boil until they break apart by pressing against the side.  Drain when ready.
Sauté onions and garlic in butter and cumin.  Drain then set aside.
Open can of salmon and debone (if necessary).
Place potatoes, onions, garlic and salmon in a bowl.  Mash contents and add butter, milk, salt and pepper until mash is creamy and smooth.
Place into pie crust then cover with crust.  Make sure you cut a small hole near the centre of the pie.
Place in the oven for 25 to 30 minutes or until crust is a golden brown.
Egg Béchamel Sauce
Hard boil 4 eggs, remove shell, chop then set aside.
Melt butter at medium-high to sauté onions.
Add in flour then whisk until you have a consistent finish.
Pour in milk slowly while stirring.  Continue stirring for about 5 to 7 minutes or until sauce thickens.
Add in seasoning to taste and eggs.  Sauce is ready to serve.

Pâté au Saumon by Evelyn Chartres is licensed under a Creative Commons Attribution-ShareAlike 4.0 International License.