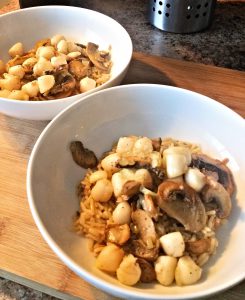 A recipe that came out while I was out roughing it at a cabin, when one of my guests brought some scallops. Since I had some mushrooms, onions and garlic, I combined the ingredients to create this dish.  This recipe is quick and easy to make and requires only one pan to complete.  Necessity really is the mother of invention!
Dish pictured on a bed of Knorr Sidekicks – Country Mushroom, which compliments the dish nicely.
Ingredients
10 fluid ounces (295 ml) of canned mushrooms (drained)
2 tablespoons (30 ml) of butter
¼ teaspoon (1.25 ml) of cumin
⅛ teaspoon (0.75 ml) of pepper
1 small onion, approximately 1.5 ounces (45 g) finely chopped
2 cloves of garlic (5 g) pressed
9 ounces (250 g) of scallops
Preparation
Place a medium-sized pan on medium heat then melt butter.
Add mushrooms, cumin and pepper. Sauté mushrooms until they brown lightly.
Add in onions and garlic, continue to sauté until onions are transparent.
Add scallops and sauté until they are cooked throughout.
Remove from heat and ready to serve.