Meat Pie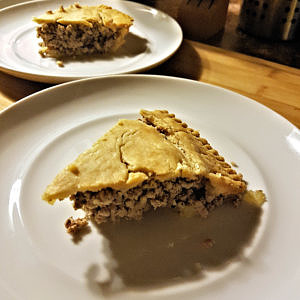 There are many variants of
tourtières
 and this one is the most iconic version. Filled with ground beef and pork, covered in crust and baked in the oven, this dish is often enjoyed with
hunter sauce
or
ketchup
.
For an added kick, add some grated cheddar cheese before the top layer of crust is added. Stuff crust tourtière?
Ingredients
1½ pounds (680 g) of ground pork
1 pound of (450 g) of ground beef
4 cups (940 ml) of chicken broth
1 tablespoon (15 ml) of butter
2 cloves garlic (5-10 g) pressed
½ cup (125 ml) of diced onions
½ teaspoon (2.5 ml) of Italian seasoning
¼ teaspoon (1.25 ml) of ground nutmeg
¼ teaspoon (1.25 ml) of ground cinnamon
Salt and pepper
Preparation
Pre-heat oven to 350°F (180°C).
Using a 3 quart (2.8 litre) saucepan pour in chicken broth followed by ground meat.
Heat on medium-high and stir occasionally until cooked.
Remove from heat, drain then set aside.
Melt butter in a pan. Sauté onions and garlic until onions are transparent.
Mix onions and garlic with the ground meat. Halve the meat mixture then fill two 9 inch (23 cm) pie crusts. Cover w

ith crust, cut some slits so vapours can escape.

Bake in oven for 30 to 40 minutes or until crust is a golden brown.
Remove from oven and let cool for five minutes before cutting into slices and serving.

Tourtière by Evelyn Chartres is licensed under a Creative Commons Attribution-ShareAlike 4.0 International License.