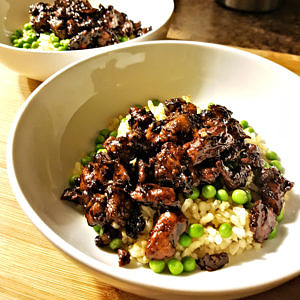 A tasty dish that I've made for years. Based on a recipe for Chicken Kung Pao and it's easy to make and the difference in vinegar really makes the flavour pop! Serve with peas and rice to make a complete meal.
Ingredients
½ cup (120 ml) of finely chopped onions
2 cloves (5-10 mg) of pressed garlic
¼ cup (60 ml) of roasted red pepper
½ teaspoon (2.5 ml) of shaved fresh ginger
¼ cup (60 ml) of balsamic vinegar
¼ cup (60 ml) of soy sauce
1 tablespoon (15 ml) of sugar
2 tablespoons (30 ml) of olive oil
1 pound (450 g) of chicken
2 tablespoons (30 ml) of cornstarch
Preparation
Chop onions and red pepper then add to a small bowl with pressed garlic. Set aside.
In a small bowl add vinegar, soy sauce and sugar. Set aside.
Combine chicken and cornstarch in a resealable container. Toss to coat the chicken.
Heat oil in a large skillet on medium heat.
Add chicken and cook until it is no longer pink. Remove from the skillet.
Add onions, red pepper, ginger and garlic into the skillet. Cook until onions are transparent.
Return chicken to skillet.
Quickly stir the contents of the bowl, then add contents to the skillet.
Heat thoroughly, stirring occasionally.
Remove from heat and ready-to-serve.

Balsamic Chicken Bites by Evelyn Chartres is licensed under a Creative Commons Attribution-ShareAlike 4.0 International License.