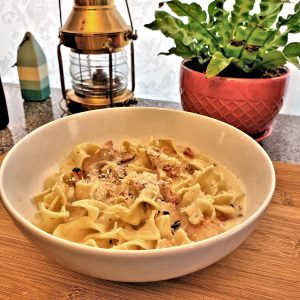 A straight-forward recipe that combines noodles, chicken, mushrooms, cream, sherry, and red peppers to create a ready-to-serve dish. This cream based dish is sure to be a crowd pleaser!

Ingredients
6 ounces (180 g) of egg noodles
1 pound (450 g) of chicken breast
3 tablespoons of butter
10 fluid ounces (285 ml) of canned sliced mushrooms
½ teaspoon (2.5 ml) of cumin
2 cloves (5-10 mg) of garlic pressed (Optional)
¼ cup (60 ml) of flour
1 cup (240 ml) of chicken broth
1 cup (240 ml) of heavy cream
2 tablespoons (30 ml) of dry sherry
¼ cup (60 ml) of fine chopped roasted red peppers
1 teaspoon (5 ml) of Italian seasoning
½ cup (120 ml) of grated Parmesan (Optional)
Preparation
Cook pasta according to package directions, rinse, drain, and set aside.
Grill and spice chicken according to preference. Cut into cubes, and set aside.
Melt butter in a large saucepan (1.4 quarts or 1.3 litres) over medium heat.
Add mushrooms and cumin then sauté until browned.
(Optional) Add garlic and sauté for about a minute.
Stir in flour; whisk until smooth.
Add broth and bring to a boil.
Blend in cream and sherry. Allow the sauce to thicken.
Add red pepper, chicken, and Italian seasoning. Allow peppers to warm up.
In a large bowl, mix pasta with sauce. Ready-to-serve.
(Optional) Sprinkle with Parmesan for a burst of flavour.

Chicken Tetrazzini with Roasted Red Peppers by Evelyn Chartres is licensed under a Creative Commons Attribution-ShareAlike 4.0 International License.