I've had a chance to read through Essence: Alta, a science fiction story by Nick Braker. This is the sequel to Essence: Septima and starts off moments after the first book finished.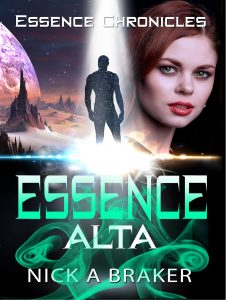 Whereas the first book was chaotic due to the conflicts swirling within the main character's being, this novel shifts its focus on the external threats, while still delivering on a stream of sexual conquests. The story also coalesces key players in order to explore the ramifications of their attempts to out-manoeuvre one another.
All the while, the main character learns to live with the fusion of two souls. Answers will trickle in on this new reality, giving the reader more insight on the history and world Nick created.
What we don't get is a satisfying ending. This story is a bridge to Essence: Septima and sets the scene for Essence: Amber. How everything falls into place will have to wait for the sequel. Mercifully, the book is already available for your reading pleasure.