Essence: Amber is the third of a science fiction series written by Nick Braker. This novel takes off right where Essence: Alta ends and brings this continuing saga to the next level.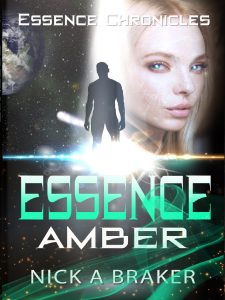 While the previous books were heavily focused on limited locations, allowing for a focus on character growth, Essence: Amber enables the reader to really sink their teeth into a universe that, until now, we've only had a taste of.
Now that the events explored previously have come to an head, the world beyond is blown wide open. The reader quickly realises that there is much they don't know, and that the next page might bring revelations of treachery, conquests, or the threat of eradication. This uncertainty will leave the reader to question the fate of the group until the very end.
Alas, there is still much in this universe left to explore. While the main storyline has ended cleanly, there are other avenues left to explore. Those will hopefully be answered in Essence: Candice due for release December 2020. I can't wait!