Samantha Kroese is an independent author who loves to write dark tales about hope surviving against impossible odds.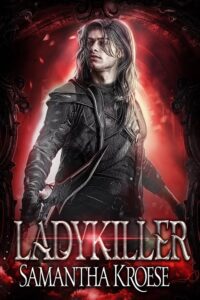 Ladykiller is a dark fantasy tale about an assassin who is renowned for his dealings with women. Kroese has created a world with a dark and gritty edge. No one is white as snow, and their motivations are revealed as the story develops.
The author weaves two points of view throughout and manages to do so with little duplication. The juxtaposition between the two brothers works out beautifully, revealing both sides of the story.
Ladykiller is a quick read that will introduce you to a world that is both rich in history and lore. It offers a satisfying ending and closes up all major plot points. While there are other books in this world, this story is effectively a stand alone work and is well worth a read.