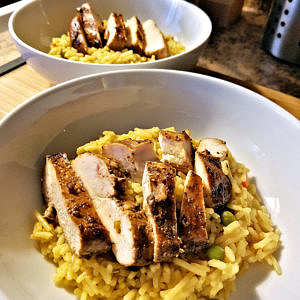 A tasty way to prepare chicken by marinating the meat in onions, garlic, beef broth and balsamic vinegar. This dish is typically grilled, cut into tender bite-sized pieces of chicken. This is certainly a family favourite!
Chicken and marinade can be prepared ahead of time and frozen. I use this when going out to a cabin for the week, permitting me to quickly get a meal going with minimal effort.
Ingredients
¼ cup (60 ml) of finely chopped onions
2 cloves (5-10 mg) of garlic pressed
4 teaspoons (20 ml) of powdered beef broth
⅓ cup (80 ml) of water
¼ cup (60 ml) of olive oil
1 teaspoon (5 ml) of balsamic vinegar
1 pound (450 g) of chicken breasts
Preparation
In a freezer bag, add all ingredients and mix thoroughly.
Use a straw to take out any excess air then seal the bag.
Place in the fridge for at least three (3) hours or overnight. Mix the contents of the bag occasionally.
Grill chicken until meat is cooked throughout. Baste with marinade occasionally to enhance flavour.
Cut up chicken breasts into bite-sized pieces. Ready to serve.

French Onion Marinade by Evelyn Chartres is licensed under a Creative Commons Attribution-ShareAlike 4.0 International License.