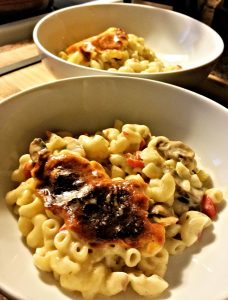 When I ventured out into the real-world, home cooked meals meant I cooked myself. So this became one of my go-to meals, since it is simple, straightforward and typically offered enough leftovers to keep me going for three to four days.
This recipe combines pasta, cheese, mushrooms and a soup base to create a tasty dish which is ready-to-serve within an hour.
Ingredients
2 cups (470 ml) of elbow macaroni
1 tablespoon (15 ml) of butter
1 teaspoon (5 ml) of garlic butter
10 fluid ounces (295 ml) of canned mushrooms
¼ teaspoon (1.25 ml) of ground cumin
⅛ teaspoon (0.625 ml) of ground pepper
¼ cup (60 ml) of finely chopped onions
¼ cup (60 ml) of chopped pimentos
⅓ cup (80 ml) of mayonnaise
10 fluid ounces (295 ml) of condensed mushroom soup
1 cup (235 ml) and ¼ cup (60 ml) of grated velveeta cheese
Preparation
Preheat oven to 350°F (175°C).
Cook macaroni according to packaging instructions, rinse then drain.
Over medium heat melt butter and garlic in a pan then add mushrooms, cumin and pepper. Sauté until the mushrooms are golden brown.
Add onions and pimentos, sauté for 1-2 minutes until the onions are transparent.
Drain pan of excess butter, then place in a large bowl.  Add mayonnaise, ¼ cup (60 ml) of cheese, milk and condensed soup.  Mix until you have a consistent finish.
Add macaroni, mix then pour into a 1.5 litre stoneware baker.  Cover with remaining cheese then place in the oven for 30 minutes.
Makes approximately four portions.

Macaroni and Mushroom Casserole by Evelyn Chartres is licensed under a Creative Commons Attribution-ShareAlike 4.0 International License.