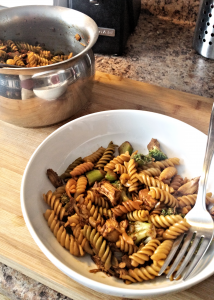 When the Chinese immigrated to North-America, they used the raw ingredients available to them.  Hence Chinese food that differs from what we would find in China today.
This French Canadian meal is such a variant. This recipe is easy to make and an excellent way to change things up when you have leftover rotisserie chicken or pork.  Simply prepare, mix and you are done!
Ingredients
1½ cup (355 ml) of fusilli
4 ounces (115 g) of broccoli
¼ cup (60 ml) of chopped fine onions
2 cloves (5-10 g) of crushed garlic
5 ounces (145 g) of coarse chopped chicken or pork
2 tablespoons (30 ml) of soy sauce
Preparation
Cook pasta as per package directions, drain then set aside.
Thaw broccoli (if required) then cut into smaller pieces.
Oil the saucepan then heat on medium-high. Place onions and garlic and cook until onions are transparent, but not brown..
Add broccoli and chicken pieces until heated throughout.
Add in the noodles then soy sauce. Stir noodles have been consistently coated in soy sauce. Keep stirring until heated throughout then ready-to-serve.

Nouilles Chinoise by Evelyn Chartres is licensed under a Creative Commons Attribution-ShareAlike 4.0 International License.