Mari Hamill brings to life a unique world where werewolves and hunters are ingrained into the fabric of the culture. In Werewolf Nights, not only is there a fresh take on werewolf lore, but the town, stores and even the local university pay homage to their namesakes.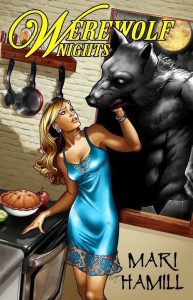 The story starts off with an apparently innocuous outing. Catherine Mercy, a femme fatale who had to deal with the disappearances of the only two men she ever loved, goes out on a date. So what could possibly go wrong? In a place where everyone knows your name and rumours travel faster than light, the opportunity for mischief rises exponentially!
While the cast is varied, the story is mostly focused on the main character, Catherine Mercy. Her tragic past, kind nature, creativity, and ultimately, her ability to face challenges head-on endear the reader. I would devour more stories from this author simply to watch Catherine in action!
Werewolf Nights is a fast-paced, light read that flawlessly combines fantasy, action and romance into one comprehensive tale. If you are hunting for a story that has the feel of a telenovela with a hint of Dark Shadows, with werewolves instead of vampires, then this book is for you!