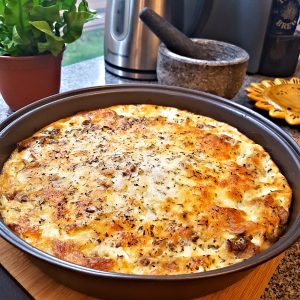 A quiche for breakfast? Yes! This crustless quiche recipe combines three cheeses, sautéed mushrooms, and spinach to create a flavourful breakfast favourite! While this recipe bakes to perfection, add some bacon, toast, and cretons to make things interesting!
Ingredients
5 ounces (150 ml) of chopped spinach (thawed and drained)
1 tablespoon (15 ml) of butter
1 tablespoon (15 ml) of olive oil
1 can (285 ml) of canned sliced mushrooms (drained)
½ teaspoon (2.5 ml) of ground cumin
¼ cup (60 ml) of onions
2 cloves (5-10 g) of crushed garlic
2 ounces (55 g) of crumbled feta
1 cup (235 ml) of milk
4 large eggs or equivalent in egg whites
¼ cup (60 ml) of grated Parmesan cheese
½ teaspoon (2.5 ml) of Herbes de Provence or Italian seasoning
½ cup (120 ml) of shredded mozzarella cheese
Preparation
Pre-heat oven to 350°F (175°C).
On a greased 9 inch (22 cm) pie tin spread the spinach then set aside.
Using a medium pan, melt butter over medium heat.
Add mushrooms and cumin. Sauté until mushrooms are lightly browned.
Add onions and garlic to the pan. Continue to sauté until the onions are transparent.
Remove from heat, drain of any remaining oil. Line pan tin with contents.
Crumble feta cheese over spinach and mushroom mix.
In a small bowl, mix: milk, eggs, Parmesan cheese and seasoning.
Pour the contents of the bowl into the pie tin. Top with mozzarella cheese.
Place in the oven for 40 to 50 minutes, or until the top is a golden brown.

Three Cheese Breakfast Quiche by Evelyn Chartres is licensed under a Creative Commons Attribution-ShareAlike 4.0 International License.