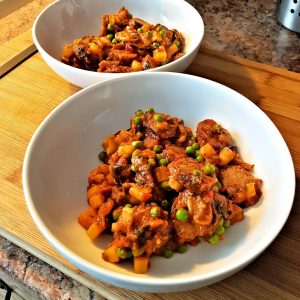 I am not certain if this recipe has anything to do with what is served in Tuscany. However, this dish combines Italian sausage, potatoes, mushrooms, peas and pasta sauce to create a ready-to-serve meal in less than an hour.
This recipe can be heavily varied based on the type of pasta sauce used. I typically opt for a four-cheese or spinach pasta sauce, both of which are crowd pleasers!
Ingredients
1 pound (450 g) of Italian Sausage
1 pound (450 g) of potatoes
1 tablespoon (15 ml) of garlic butter
1 teaspoon (5 ml) of cumin
10 fluid ounces (285 g) of sliced mushrooms
3 ounces (85 g) of diced onions
3 ounces (85 g) of diced red peppers
22 fluid ounces (650 ml) of pasta sauce
6 ounces (170 g) of thawed sweet peas
Preparation
Cook and slice up the sausage. I use an outdoor grill to enhance the flavour.
Peel and cut the potatoes into ¼ inch cubes (0.6 cm). Rinse then heat in the microwave until the potatoes have softened for approximately 3 minutes (halved).
In an 8.75 inch skillet (22 cm) melt butter on medium heat. Add sliced mushrooms and cumin. Sauté until mushrooms are a golden brown. When done, set aside.
In a well-oiled 3.5 quart (3.3 l) sauté pan, cook onions and red peppers until onions become transparent.
Add potatoes and continue to cook for 2 to 3 minutes.
Add sausage, mushrooms and pasta sausage. Reduce heat to low/medium-low and simmer for 20-30 minutes.
Add sweet peas then allow to heat. Ready-to-serve.
Optionally place individual portions into a pot of stoneware then cover in mozzarella cheese. Heat in the oven for 15 to 20 minutes at 350°F (180°C).

Tuscan Sausage by Evelyn Chartres is licensed under a Creative Commons Attribution-ShareAlike 4.0 International License.