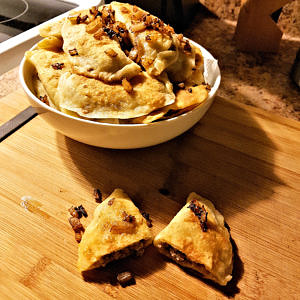 This is an amalgamation of dishes from different cultures. This recipe combines
tourtières
which is typically
French Canadian
and
pierogies
which are of
Eastern European
origin. What you end up with a bite-sized cheesy meat pie served as a main meal or as a side in large family gatherings.
Ingredients
2 cups (470 ml) of all-purpose flour
1 teaspoon (5 ml) of salt
1 large egg beaten
⅔ cup of ice-cold water
1 cup (235 ml) of tourtiere meat
⅓ cup (80 ml) of shredded cheddar cheese
Preparation
In a medium-sized bowl mix first four ingredients. Knead the dough, adding flour as necessary until dough can be handled.
On a floured surface, place dough, flatten and cut into 4 inch (10 cm) diameter circles.
On each piece add 1 teaspoon (5 ml) of cheddar and 1 tablespoon (15 ml) of tourtiere meat. Fold in half and pinch edges to seal in contents.
In a well-oiled pan fry on medium until pierogies are golden brown.
Makes roughly 16 perogies in all. Serve with fried onions, shredded cheese and sour cream.

Cheese and Tourtiere Stuffed Pierogies by Evelyn Chartres is licensed under a Creative Commons Attribution-ShareAlike 4.0 International License.