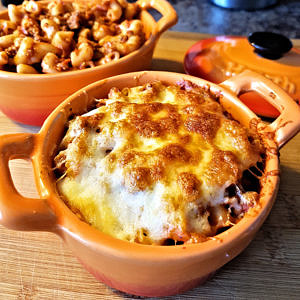 Ground beef and macaroni with a pasta sauce is pretty much a staple of Canadian cooking. There also seems to be no end in sight for variants and it's readily available in stores.
This variant is quick and easy to make. I also add some melted shredded cheese on top using an oven. While I use a four-cheese or Portobello mushroom pasta sauce, any variant that catches your eye will do!
Ingredients
8 ounces (225 g) of elbow macaroni
1 tablespoon (15 ml) of butter
1 pound (450 g) of ground beef
¼ cup (60 ml) of finely chopped onions
¼ cup (60 ml) of finely chopped roasted red peppers
2 cloves (5-10 mg) of pressed garlic
1 teaspoon (5 ml) of Italian Seasoning
½ teaspoon (2.5 ml) of salt
½ teaspoon (2.5 ml) of pepper
22 fluid ounces (650 ml) of pasta sauce
¼ cup of shredded mozzarella cheese (per portion)
Preparation
Pre-heat the oven to 350°F (175°C).
Prepare macaroni under package instructions.
In a large skillet, melt butter over medium heat.
Add beef, onions, red peppers, garlic and seasoning.
Cook until the meat is no longer pink, then drain the drippings.
Return to the heating element before adding pasta sauce and macaroni. Simmer on low for about 20 minutes.
Place a portion in a stoneware dish then cover in shredded cheese. Place in the oven on Broil for 15 minutes or until the cheese is golden brown.

Beef and Macaroni au Four by Evelyn Chartres is licensed under a Creative Commons Attribution-ShareAlike 4.0 International License.