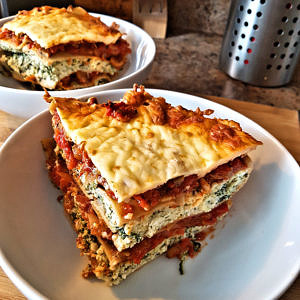 Lasagna and the multitude of variants are a staple for many families. This variant does not have a meat layer, but it makes up for it with flavour. The sautéed mushrooms, spinach and Ricotta cheese come together to create a delicious ready-to-serve meal!
This recipe feeds 4 to 6 people.
Ingredients
8 to 12 of Lasagna noodles
1 cup (235 ml) of shredded mozzarella cheese
Sauce Layer
10 fluid ounces (285 ml) of canned mushrooms (drained)
½ teaspoon (2.5 ml) of cumin
½ cup (120 ml) of finely chopped onions
½ cup (120 ml) of chopped roasted red pepper
2 cloves of garlic (5-10 g) pressed
22 fluid ounces (640 ml) of diced tomatoes (drained)
8 fluid ounces (250 ml) of tomato sauce (divided)
½ teaspoon (2.5 ml) of Italian seasoning
Cheese Layer
16 ounces (450 g) of Ricotta cheese
¼ cup (60 ml) of grated Parmesan cheese
2 large egg whites
¼ cup (60 ml) of bread crumbs
5 ounces (140 mg) of chopped spinach
Instructions
Prepare noodles according to package instructions. Drain and rinse before setting aside.
Sauce Layer
Carefully drain spinach and add to a large bowl.
Add ricotta cheese, Parmesan cheese, egg whites, and breadcrumbs to the bowl.
Mix until you have a consistent finish, set aside.
Cheese Layer
Pre-heat the oven to 350°F (180°C).
Use the remaining two tablespoons (30 ml) of tomato sauce to coat the bottom of the stoneware casserole dish or pan.
Layer three noodles at the bottom making sure they overlap slightly. Cover with half of the cheese layer.
Layers three noodles to run perpendicular to the earlier layer, ensuring they overlap. Cover with half of the sauce layer.
Repeat the previous two steps to make up the remaining layers.
Top with shredded mozzarella cheese then place in the oven.
Bake for 45 minutes, remove from the oven and let stand for 10 minutes.
Cut into appropriately sized slices. Ready-to-serve.

Spinach and Mushroom Lasagna by Evelyn Chartres is licensed under a Creative Commons Attribution-ShareAlike 4.0 International License.