A Cursed Legacy is an urban fantasy novel authored by Kima Blaze. This is the third book from the A Rift in the Veil series and will only make sense to new readers after reading the first two.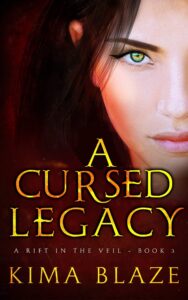 These books have taken on traits of a television series. Every new book drives the overall story forward and foreshadows new elements that later come into play. However, the story is still focused on the here and now.
Previously, readers were left hanging due to the Wendigo storyline, and this release successfully passes the baton. The feel from the last book is also maintained inasmuch as the story reflects the chaotic nature of the situation. Lizzie can't seem to catch a breath, let alone plan, and that rings true given the situation.
Overall, this is a great read if you've invested in the series already. The story has a satisfying conclusion to the most pressing plot lines left open from its predecessor and further sheds light on Blaze's grand vision.
New to the series? I recommend you check out The Curse of a Name.