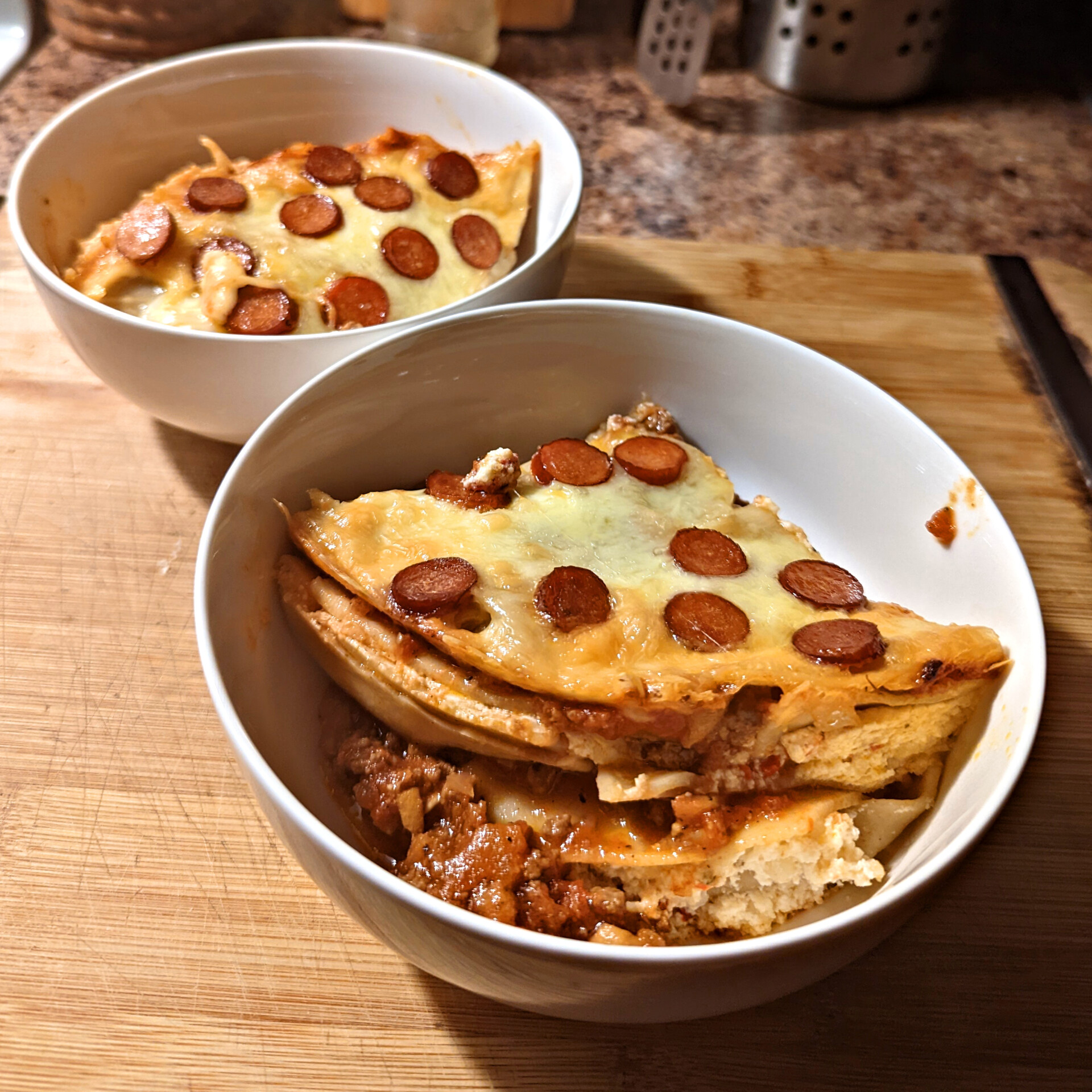 This dish leverages earlier recipes, and swaps out the vegetable layer for my spaghetti sauce. Overall, this is a great way to switch up leftovers and it will leave a smile on your face!
This recipe feeds 4 to 6 people.
Ingredients
8 to 12 of Lasagna noodles
2 cups (500 ml) of spaghetti and meat sauce (see recipe)
16 ounces (450 g) of Ricotta cheese
1 tablespoon (15 ml) of Italian seasoning
¼ cup (60 ml) of grated Parmesan cheese
2 large egg whites
¼ cup (60 ml) of bread crumbs
½ cup (120 mg) of roasted red pepper (finely chopped)
1-2 pepperette sticks (50 g) (cut into thin slices)
1 cup (235 ml) of shredded mozzarella cheese
Instructions
Pre-heat the oven to 350°F (180°C).
Prepare noodles according to package instructions. Drain and rinse before setting aside.
In a large bowl ricotta cheese, Italian seasoning, Parmesan cheese, egg whites, breadcrumbs and red pepper. Mix until you have a consistent finish. Set aside.
In a greased stoneware casserole dish, layer three noodles at the bottom. Make sure they overlap slightly. Cover with half of the cheese layer.
Layers three noodles to run perpendicular to those placed earlier. Cover with half of the sauce layer.
Repeat the previous two steps to make up the remaining layers.
Top with shredded mozzarella cheese place pepperette slices atop the cheese.
Bake for 45 minutes, remove from the oven and let stand for 10 minutes.
Cut into appropriately sized slices. Ready-to-serve.