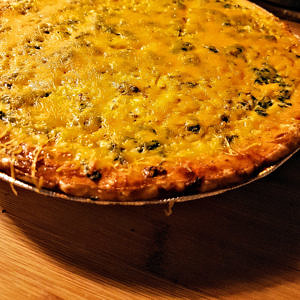 Quiche has its origins in French cuisine and has many variants. This one fuses crab, spinach, egg whites and cheddar cheese to create a tasty meal! This recipe can be made from either fresh or canned ingredients. I keep the ingredients on hand to make this meal on short notice.
Ingredients
6 ounces (170 g or 120 g drained) of flaked crab meat
5 ounces (140 g) of chopped spinach
2 ounces (55 g) of finely chopped onions
3 ounces (85 g) of shredded cheddar cheese
8 large egg whites or 1 cup (225 ml)
12 fluid ounces (350 ml) of evaporated milk
½ teaspoon (2.5 ml) of Herbes de Provence or Italian seasoning
½ teaspoon (2.5. ml) of salt
1 x 9 inch (22 cm) deep-dish pie crust
Preparation
Pre-heat the oven at 350°F (175°C).
Line bottom of pie crust with crabmeat.
Reserve 1 ounce (30 g) of cheese for later. Mix spinach, onions, and cheese then line over crabmeat.
Blend egg whites, milk and seasoning. Pour over the pie, allow it to settle.
Bake for 40 minutes.
Sprinkle with remaining cheese, and broil for 5 minutes, or until the centre is firm.
Remove from the oven, let stand for another 5-10 minutes before serving.

Cheese and Crab Quiche by Evelyn Chartres is licensed under a Creative Commons Attribution-ShareAlike 4.0 International License.